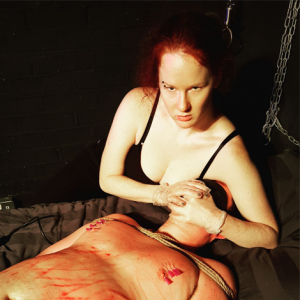 I've been a regular wrestling client for almost four years but have only recently started enjoying the services that the phenomenal Domina Araneae provides.
And I'm so glad I did as I got to experience the sheer thrill and euphoria of needle play!
It was an amazing sensation – having the multi-talented Domina Araneae skilfully and creatively piercing my chest with 20 needles.
This is easily one of the most daring things I've ever tried and there was an exciting rush with each and every piercing.
Naturally, I didn't just turn up and let her do this. She talked me through the whole process beforehand and sent me a comprehensive safety guide to read beforehand. My safety was paramount importance to her – one of the many reasons why I trust her implicitly.
I've never had a problem with needles like so many have but I've also never had a piercing so I didn't know how I'd react or what to expect.
There was a brilliant, nervous excitement feeling running through me as I got ready. This only increased as Domina Araneae as she applied anti-septic to the parts of my freshly-shaved chest that she was going to pierce.
My adrenalin was pumping and I gripped the sides of the bench I was lying on.
I heard her prepare each and every needle and I took a sharp intake of breath as they went in.
Wow! I've never been able to explain it beyond repeating over and over that is is an exhilarating feeling! There is a quick second of pain before that is overtaken by such a rush!
Pain followed by immense pleasure. I loved every second. The whole session was over very quickly but as a first experience, it was incredible.
When we finished, Domina Araneae checked to see if I was ok and I lay there for a while taking it all in. I think I'm still buzzing all this time after my needle play
I don't think I'd ever have agreed to being a pin cushion for anyone else – such is Domina Araneae's professionalism and reassuring manner. I trusted her and this trust was royally rewarded. Her whole goal is to make sure we get the best out of sessions with her – whatever they might be. I'd certainly recommend her to anyone who likes to be jabbed with needles!