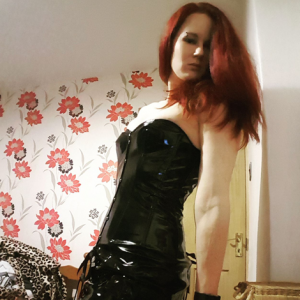 I contacted Domina Araneae by email: I respectfully advised her of my experience with Mistresses before along with the aspects of BDSM that I enjoyed; I also let her know which practices I was uncomfortable with, or would choose to avoid, should the choice be mine.
She replied and we set a date for her to visit me and deliver a session, the details of which would be entirely up to her. After dealing with her tribute, she sent me a bedroom to await her, while she changed her outfit. A vision in shiny black PVC entered the room and our session began: Domina Araneae was wonderful, respectful, gentle, frightening and totally in command of me throughout – and I loved every second of it!
This beautiful young woman held my being in her white-skinned, red-nailed hand, she exuded confidence, veiled menace and the right amount of amusement to the extent time stood still for me as I reacted to each new sensation she introduced. I was left on a complete high when our time was up (actually the session went over its booked time). I would wholeheartedly recommend Domina Araneae to anyone, beginners to experienced players alike – book her and enjoy an amazing time.