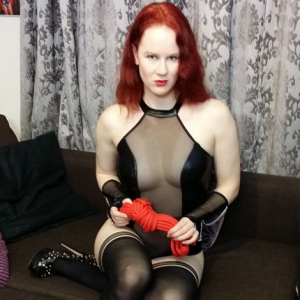 Had a brilliant 90 minute session with Domina Ari and can honestly say its one of the best experiences I've ever had.
This woman is as good as it gets and was brilliant all the way starting with when I enquired about a session right the way through to when it was completed.
My only regret is not booking her before now as I wasn't sure she did all of what I wanted: foot worship, spanking, trash talking and face-sitting.
When I first emailed her, we talked through what she offered, what I wanted and how she could deliver this in one session. And she delivered it big time!
I like being dominated by women who appear smaller than me but are actually much stronger and Domina Ari met this criteria easily.
While she was sweet to deal with but once the session began, the dominant mistress kicked in and she put me in my place and made sure I knew what a pathetic sub I actually am.
I probably helped her get in character when I arrived late for the session because of traffic! Loved the way she worked that into the session and gave me plenty of slaps for keeping her waiting.
And she looked damn sexy! I love her red hair and this was flowing in all its glory. It was complemented by her milky white skin and perfectly applied make up. Just such a beauty and I couldn't help but gawp at her!
She wore the short black latex dress Id seen her wear in pictures and I had requested. Her spiked heels just added to the effect. Again, I spent the first few minutes staring at her.
And this didn't sit to well! She demanded to know why I felt i had the right to make her wait and why I was looking at her without her permission. I was excited from the start and it only got better.
She made me worship her legs and feet. While on my knees I kissed her soles and each toe after she'd kicked those heels off. She sat down and made me kneel in front of her as she slapped my face with her feet. Domino Ari rubbed them into my face and made me take in their aroma. Heavenly!
Of course, Mistress didn't think I was worshipping them enough and the punishments and trash talking intensified. My bottom is still red raw and sore from her spanking!
I greeted her instructions with a heady mixture of fear and excitement and wasn't going to argue when she made me lye across her lap and her hand went to work.
She kept up the trash talking throughout. Her posh accent only turned me on even more as she used profanities and insults that would make sailors blush!
Mistress applied a dog collar and chain too making me walk around the room, acting like a dog and fulfilling her every instruction while on "all fours".
Her own creativity that she added to bring my ideas to life was astonishing. It's as if she picked up what I liked and threw in things she instinctively knew I would also like to make it a better experience. Amazing.
My hour and half was ticking down when she put the cherry on the cake with her face sitting. She has a sexy ass and it felt amazing having it rest on my face. I tried not to struggle too much but she knows how to make a man gasp desperately for air!
I was gutted when my time was up but she made every single second count and made it an unforgettable session. I can go on and on about how sexy, professional and superb she is but its easier to just recommend her!
It was a long overdue booking for me but I've already booked my next one! Domino Ari is well worth it!!